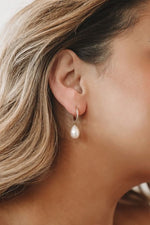 5 Best Valentines Day Jewelry Gifts
 5 Best Jewelry Valentine's Day Gifts
Valentine's Day is just around the corner & since Jewelry is so personal, it's a good idea to start planning ahead.
Our 1st Valentine's Day Jewelry Gift is the Sweetheart Link Chain above. It's the Most trendy chain out right now!  What I Love most besides the interlocking 14kt Gold fill hearts is the Minimal Jewelry feel it has. The links are tiny but cute & can represent your love connection literally (interlocking links). 
Next Vday Gift Idea is our 18kt Gold plated Rose Charm Necklace. Nothing says Love more than Roses. It's the Perfect Vday Gift for love.
And if your into the Pearlcore Jewelry Trend, you will love investing in a gift that will last forever! Our Pearl Cz Hoop Earrings represent eternal love  & wisdom. Yet they are classy & will stay in style forever, just like your love! Cheesy, I know but I'm a helpless Romantic what can I say.
Now if you are looking for an Exclusive, eclectic more Fine piece of Jewelry for Valentine's Day, we carry both 14kt Gold Diamond Initial Necklaces & 14kt Diamond Zodiac Necklaces, too!
So if your Valentine's is someone who loves to feel unique & you want something that shows more of an investment, this is definitely the Valentine's Jewelry Gift for you! 
I hope you enjoyed our 5 Best Valentine's Day Jewelry Gift Ideas & that you shop with ilaments this Valentine's Day! All our Jewelry is Handmade with lots of Carino!
Blessings & Abundance for 2023!
Lisa