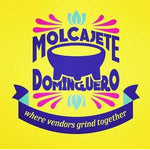 ilaments Jewelry @ Molcajete Dominguero Latinx Pop Up Event
It's that time of Year to Shop at the Largest Latinx Pop-Up in the Country! I can't tell you how excited I am to be apart of the Dec. 16th Event. I'm looking forward to all the amazing art, vendors and food! 
Molcajete Dominguero is the Largest Latinx Pop-Up event in the Nation!Luis Octavio along with his co-partner, have created a beautiful community of artists to shop & experience!

This is a Unique Latinx shopping event that takes place every month. You will find over 70 curated local artist and vendors. Get your Xmas Gift list ready to shop from clothing brands, handmade jewelry, accessories, bath & body products, paper goods, and mucho mas! 

And don't forget will have Tacos, Esquites, Sweet Delights, and so many more yummy treats.... 

Best part the entrance is free. It's located across the street from Olvera Street, so lots of parking lots, but I would recommend Ubering there or even the Metro! It's going to be packed L.A.!

Entrance is Free !
MOLCAJETE DOMINGUERO
@ PLAZA DE CULTURA Y ARTES
Sun. Dec. 16th, 2018
11:00 a.m - 4:00 p.m.
501 North Main Street
Los Angeles, CA 90012