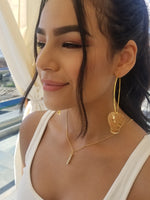 Keep Dreaming- Wisdom Wedsnesday
Keep Dreaming! Love Skulls?
Here's a Sneak Peak of one of our infamous designs, ilaments Papel Picado Sugar Skull Hoops!
Cool ilaments Behind the Scenes story on how these Hoops have been a continuous reminder for me to never give up!
Always be your most authentic self despite what anyone says and that goes for your Sales Rep, lol!
So its July 2011 when I begin to get ready for my annual trade show at L.A.'s Convention Center known as the California Gift Show. This year I decided to create my Sterling Silver sugar skull design into Acrylic. Now this is a hard plastic that many designers use because it's light, fun and can be cut into so many different shapes. 
So I got inspired and thought outside the box, what if I create a less expensive collection but with the same feel? And thats exactly what I did, the price point was great for Buyers & the collection captured my culture with a fun design. Who's not gonna love that right?

So long story short, I met my future Showroom Sales Rep, whom I consider a gem of value into this fashion industry. He's been around as long as I have to see all the trends! We're talking Pre-Coco (the Movie) before anyone was celebrating Dia de Los Muertos the way they are now anywho, He says to me, "Gurl those are cute and kitchy". My clients won't get that in General Market, but keeping doing you Boo"! So I was like ok. I love them and kept on with the show.
About a few months later, I get a call from a huge buyer of mine who owns Mexican Sugar Skulls.com and she says I hope ots ok, I sent your Sterling Silver Vida Skull Earrings to InStyle Magazine! I was beside myself. That is a Designers Dream Come True.

Once I got featured, that following March in the Accessories Report Issue, it was like Dia de Los Muertos just caught fire! And My Showroom Rep came back to me and said everyone is looking for skulls, bring them into the Showroom.
So I'm like Yes!!! I set up my collection at the New Mart on 9th Street, and as Im setting up I pray that the Lord would land ilaments in Fred Segal, Santa Monica and guess what?
Within15 minutes of L.A. Market starting, with still 3 days to go, I get a call from my Sales Rep saying, You landed these Sugar Skulls in every color at Nina's Fred Segal in Santa Monica. Google her:)

Now let's go back 25 years, I'm a young 16 year old taking the bus from So.Central all the way to my Private High School in Santa Monica. Do you know how many times I rode the bus pass Fred Segal? Or how many times I strolled in this luxury, expensive store and dreamed of being in their jewelry cases? 

With all of that said, these earrings are truly a message to believe in yourself, to never give up and don't be afraid to take a little risk. It just might pay off.
Keep focused on your Dreams! They just might come true!
Blessings,
Lisa:)