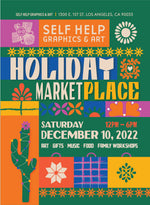 Self Help Graphics & Art Holiday Marketplace
Shop Local for Handmade Gifts for the Holidays with ilaments Jewelry at 
Self Help Graphics on Sat. Dec. 10th, 2022 from 12-6 p.m.
In the Heart of Boyle Heights, you will find the Best Chicano/a 
Artwork, Jewelry, Clothing & Accessories for all your Holiday Gifts.
We will have Limited Edition Jewelry Collections & classic ilaments Jewelry Styles. Share this flyer with your Family & Friends