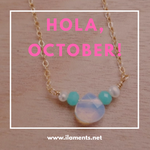 7 ilaments Jewelry Designs You will Love
                                         ilaments Sweet Gold Sugar Skull Hoops $28
I feel like a Trend that never goes out of style is Bracelet Stacks.
Here I've grouped together a classic snake chain bracelet,
seed bead friendship bracelet just to keep it real and our
14kt Gold Fill Virgen Figaro Link Bracelet.
You can shop for the Virgen Bracelet in our Chola Boss Collection!
Accessoried Gold Bracelet Stacks! Shop from our Collections, Mix in
Your Own and get creative with your Style!
It wouldn't be L.A. without Mexican Pan Dulce!
I like to keep My Style Urban, yet classy. A little hood but with just a flair of culture.
Our Concha Gold Hoops give you just that! Their sweet, light and handmade!
Shop this look in our Dulce Vida Collection!
Turquoise drop earrings are simple, yet powerful.
Stunning blue color hand wire-wrapped with 14kt Gold Fill wire.
I'm moving in the direction of using more healing stones.
Turquoise is known as a master stone of protection.
Love our Virgen Turquoise Rosary Necklace.
Created with the center piece of a rosario and finished with a Turquoise Gemstone.
An amulet for wisdom and protection. Then we have our Virgencita created in
14kt Gold with an Opalite stone gives your a heirloom you can passed down.
If your a Spirtual Gangsta like me, this necklace is for you! Next Level in our 14kt Gold Fill or Solid Gold. I want to inspire you to be your most authentic self. 
My Beautiful Cousin, Allianna wear our Vida Skulls in Dodger Blue Acrylic,
layering her look with our 14kt Gold Virgen Opalite Rosary and
Limited Edition Handmade CZ Cross Necklace!
Alli became one of my first #ilamentstylist !
Ilaments Affliate Jewelry Program is here! Email me if you want to learn
how to earn Free Jewelry and Commission being your Own Chola Boss!
Email Lisa @ shopilaments@gmail.com