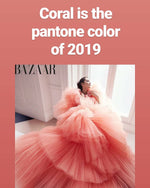 Vibrant Coral brings us into 2019! One of my favorite colors that melts my soul is  PANTONE 16-1546! Makes sense why it was chosen as the Living Coral Color of 2019! It embraces us with a glow and warmth and nourishment that the world needs right now. 
Accessories I believe not only make the outfit, but also give you insight to the person. Providing both familiar pieces  shifting to jewelry that reflects the  environment we live in. The photo above showcases natural raw color strands. Talk about Living La Vida Coral!
To start your New Year in a prosperous direction, incorporate designs that make you feel happy! It's Coral that gives the energy of happiness. A truly valuable gemstone, with all its interesting shapes, color and authentic pores. It gives you just the right amount of pink hues and touches of red.
Here you see the Coral color reflected in these beautiful seashells! I don't know about you, but I am addicted to Pinterest! So many amazing photos to pin for inspiration! It's where I go to when I want to get lost in inspiration!
Now these Beautiful Coral Dangle Earrings capture the meaning of Living Coral Pantone 2019! Vibrant, Raw, yet elegant and soft! I had to share how this year's color is inspiring me as an Artist! 
Most of the time designs come easily, but sometimes designing calls for some extra inspiration. I'll be creating a Coral Collection this Spring/Resort19. I'm looking forward to bringing in this energy of vibrancy into 2019, How bout you? What energy are you looking to bring into 2019?
Happy Living La Vida Coral,
Xoxoxo,
Lisa 
ilaments 
Jewelry Whisperer;)